Note: Please read the article carefully before proceeding! If in the process of using you encounter any errors, such as broken download links, slow loading blog, or unable to access a certain page on the blog ... then please inform me. here. Thanks!
As you know, Samsung recently launched a trio of smartphone smartphones including Galaxy S20, S20 Plus and Galaxy S20 Ultra.
Normally, when Samsung launches the latest phones, people will also flock to the top two premium phones of the two manufacturers to share, compare ...
Yes, and the current comparison is the iPhone 11 Pro Max and the recently released Samsung Galaxy S20 Ultra.
And to satisfy that need of you, in this article I will basically compare between these two top smartphones!
#first. Compare on design
Let's first talk about the design of these two smartphones. With these two models, we will have a metal frame.
Both front and back are equipped with tempered glass. Coming to the iPhone, you are too familiar with the triangle camera cluster that is encapsulated in a square frame.
What about the Galaxy S20 Ultra?
Yes, we will have an unusually long and large camera cluster compared to the Samsung Galaxy S20 and S20 Plus versions on the same day, because this Galaxy S20 Ultra will have up to 4 Cameras.
For me, I prefer the camera of iPhone 11 Pro Max, how about you? Please leave your comments in the comment section!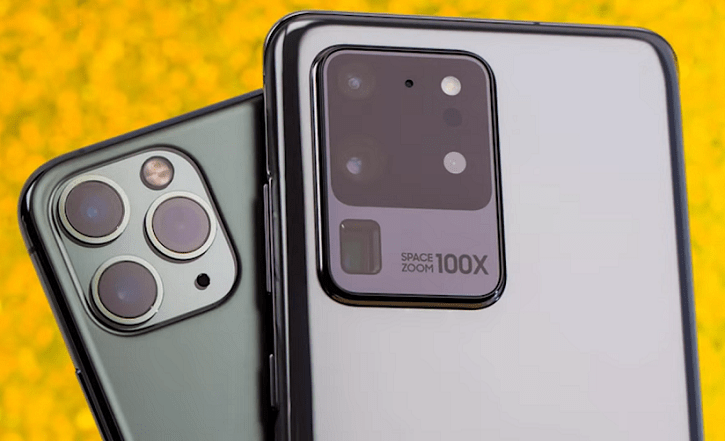 Next, we will talk about the front of the device. With Samsung S20 Ultra, they will still have an Infinity O AMOLED screen (also known as a mole screen). There is a selfie camera in the middle!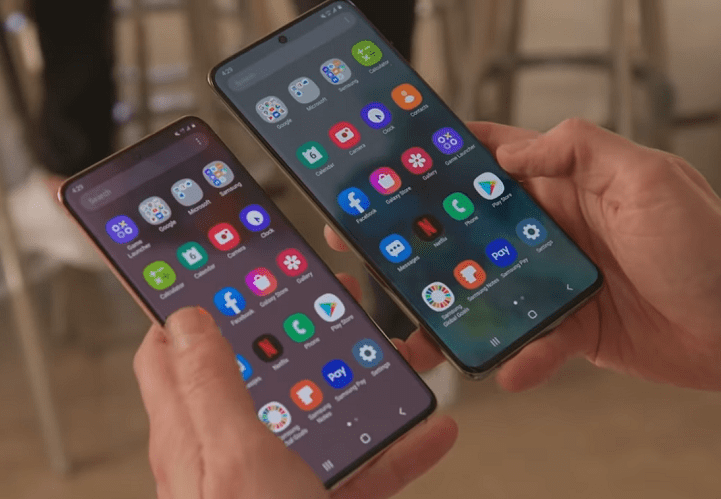 As for the iPhone, we already have a fairly traditional design, that is the screen with rabbit ears, in the rabbit ears, there is a Selfie camera and Face ID facial recognition system.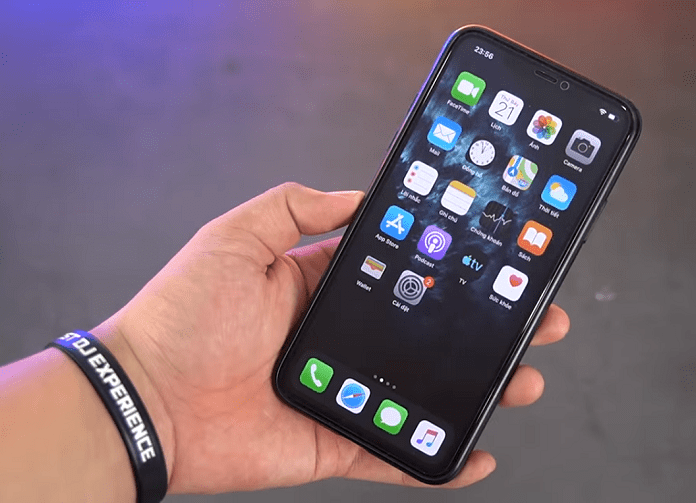 It can be said that the front of the Galaxy S20 Ultra is slightly better than the iPhone 11 Pro Max. Because of the punched design, the S20 Ultra will give a larger display area, along with that it is more aesthetic than the notch screen on Apple's iPhone 11 Pro Max.
Further on the screen, the iPhone 11 Pro Max will have a screen size of 6.5 inches, while with the S20 Ultra, we will have a screen size up to 6.9 inches. One plus point of the S20 Ultra is that its screen is longer and slimmer than the iPhone 11 Pro Max, so it's easier to hold.
#2. Compare on screen
Next, I will talk about the resolution of these two devices. With the S20 Ultra, we will have a screen with a resolution of QuadHd+ (resolution is 3200 x 1400 Pixel) marginally better than resolution Full Hd+ (resolution is 1242 x 2488) on iPhone 11 Pro Max.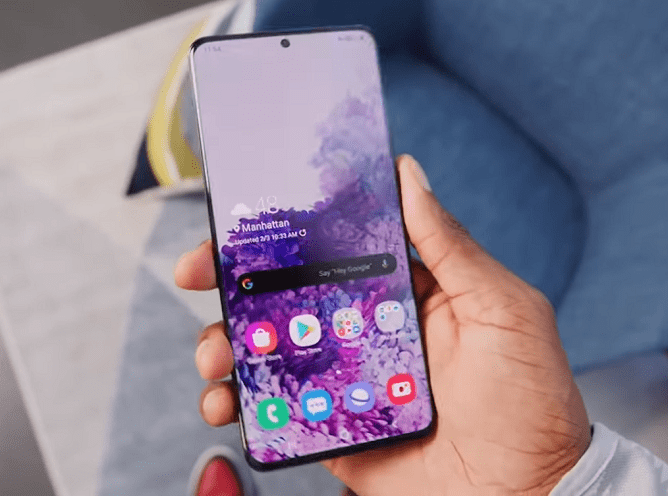 However, I find that both of these screens are no less next to each other, both machines provide an experience that is crisp and vivid images.
And there is another highlight that I think for sure Samsung Galaxy S20 Ultra will break iPhone 11 Pro Max: This time the S20 Ultra is equipped with a screen with a refresh rate of up to 120hz, too terrible, you know gaming, it will bring an extremely smooth, smooth experience.
Yes, it can be seen that when comparing this screen, the Galaxy S20 Ultra is clearly more than the iPhone 11 Pro Max.
# 3. Compare about Camera
Next is the camera. With the iPhone 11 Pro Max we are all too familiar with the trio of cameras with a wide-angle lens, a Tele camera and an ultra-wide-angle lens with a resolution of 12MP already.
In particular, with the Tele camera, we can Zoom 2X, and with the ultra-wide angle camera, we are equipped with modes such as Night Mode, Smart HDR to produce images that are sharp and suitable for every lips. different light field.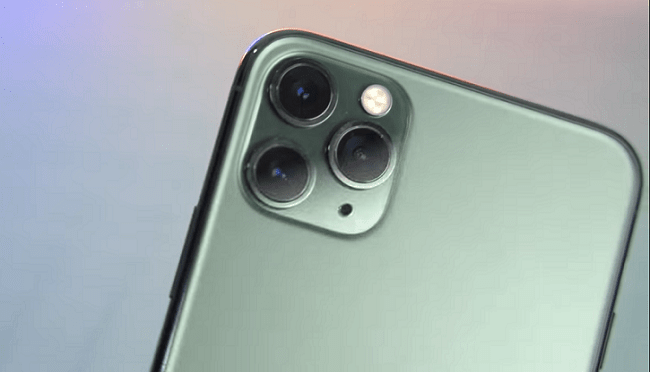 As for the Galaxy S20 Ultra, this year Samsung has also equipped its machine with a very powerful camera.
We will have a wide-angle main camera, with a resolution of 108MP (too terrible for a Smartphone). Yes, with the resolution of this camera it will be similar to our eyes.
In addition, we will have a Tele camera with a resolution of 48MP, one 12MP ultra wide angle camera and one TOS 3D camera. This camera has 10X optical zoom and electronic zoom up to 100X.
You can shoot 8K videos at 30 frames per second, but it will stop at just 5 minutes.
Equipped with anti-vibration, it will reach 60 degrees, double the previous generation. With this camera, you can record videos in professional mode, along with Samsung has equipped with a new feature called Single Text Mode, with this feature, you can take 5 pictures and 2 videos. just one click thanks to the AI ​​technology on the camera.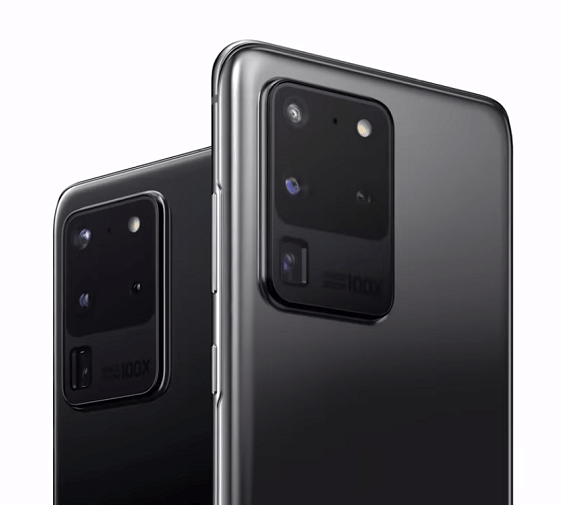 Next to the selfie camera, the Samsung S20 Ultra will also be slightly better than the iPhone 11 Pro Max in terms of specifications. We will have a selfie camera with a resolution of 40MP instead of just 12MP on the iPhone 11 Pro Max.
=> Overall, the current specifications of Samsung Galaxy S20 Ultra are slightly better than iPhone 11 Pro Max.
# 4. Compare about configuration
Next, we will talk about the internal configuration. With iPhone 11 Pro Max, we will have an Apple chip of 13 Bionic which is the most powerful chip of Apple today, for great performance.
As for the Galaxy S20 Ultra, we will have a Snapdragon 865 and Exynos 990 chip is also very powerful, for different markets ..
# 5. Comparison of battery life
Finally, the battery capacity, the Samsung Galaxy S20 Ultra has once again broken the iPhone 11 Pro Max with up to 5000mAh battery capacity with 45W fast charging promising to bring time as well as time. Battery charging time is very impressive.
As for the iPhone 11 Pro Max, it will be more modest with a battery capacity of approximately 4000mAh, and fast charging only stops at 18W. In general, the battery, the iPhone has never been a word at all.
### Epilogue
So I just compared the specifications of the current two top models from the two largest OEMs, Samsung and Apple.
Overall, the specs of the Samsung family seem to be doing better than Apple. But of course, this Samsung Galaxy S20 Ultra is back so its configuration will be stronger than that of course.
This article is only a comparison between the two most advanced phones of the two leading brands today, not intended to be discounted or anything. Thank you for taking the time to read this article of mine !!
CTV: Noob Official - Blogchiasekienthuc.com
Note: Was this article helpful to you? Do not forget to rate the article, like and share it with your friends and relatives!