Note: Please read the article carefully before proceeding! If in the process of using you encounter any errors, such as broken download links, slow loading blog, or not being able to access a certain page on the blog ... then please inform me through the Contact page. Thanks!
To have the most stable and complete Windows operating system for us to use today, there must be a combination of many system components, and the services (services) included on the Windows operating system.
These services must operate on a regular and continuous basis so that you can use system functions such as printing, Windows updates, system sounds, notifications, etc. indeed these services are too useful for computer users.
But besides that, there are many "redundant" services for the average user. For example, printing services for individual users, not everyone needs printing functionality, or for example, other services such as Tablet PC Input Service, IPsec Policy Agent, DFS Replication, etc. Many other services are no longer used.
For a group of users these services are a must, but the majority of general users like us probably won't use them ever. So turning off these unused system services is one thing you should do to optimize the performance of your computer.
In this article I will also show you how to turn off such a service, it is called IP Helper - how to do it, then continue reading the article below!
Read more:
I. What is IP Helper Services and is it disabled?
Before turning off, we should also find out what it is, isn't it. IP Helper (iphlpsvc) also has its full name Internet Protocol Helper Service, its mission is to access and modify information, network configuration settings on Windows 10.
Simply put, IP Helper allows us to use special connection protocols such as 6to4, ISATAP, Port Proxy, Teredo and of course IP-HTTPS as well.
In addition, because it is a service that comes with Windows 10 in particular, and previous versions of Windows in general, most of the IP Helper is not fake virus.
It doesn't even have an * .exe executable file to replace it, so don't worry when the IP Helper suddenly consumes hardware. Stay calm and come back here to learn how to turn it off.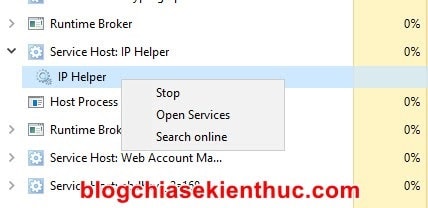 And if you don't use any of the connection protocols I've listed above, there's no reason to keep it.
As I said at the beginning of the article, Windows has a lot of features that may be useless for you, but many users need it.
So when you realize that you do not need to use a service, you can turn it off completely, without any errors that arise with your computer.
However, if you mistakenly turn off some important system services, you may cause unnecessary errors, so if you are not sure about the function of a certain service, you should go to Google to check. information in advance!
Method # 1. Disable IP Helper with the Services Management Console
Because most services on Windows 10 do not have specific * .exe files, you cannot go to the installation of that service to turn off or remove them like the software is on your computer, but We have to use a dedicated tool.
At this point, many of you probably know what tool I was talking about. 😀 - Yes that's it Services Management Console (services.msc)
Perform:
+ Step 1: First, you open the Run dialog box (Windows + R) => then enter the command services.msc => and press OK to open the tool Services Management Console.
Alternatively, you can enter this command PowerShell, or Command Prompt to do the same thing.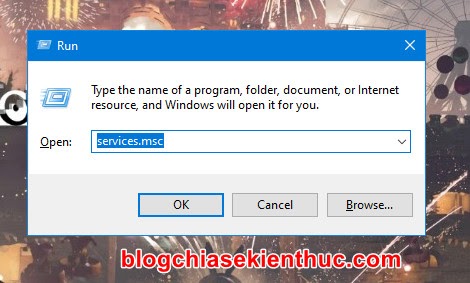 + Step 2: In the window that contains a list of all the services currently on Windows 10, scroll down to the text I - the first letter of the word IP Helper (you can quickly search by clicking on the word i on the keyboard until service name is found)
=> Then you double click on the service named IP Helper to open the service options window.
First, check the status of the IP Helper by looking at the line Service Status, if Running then this service is active => and you press the button Stop to stop it.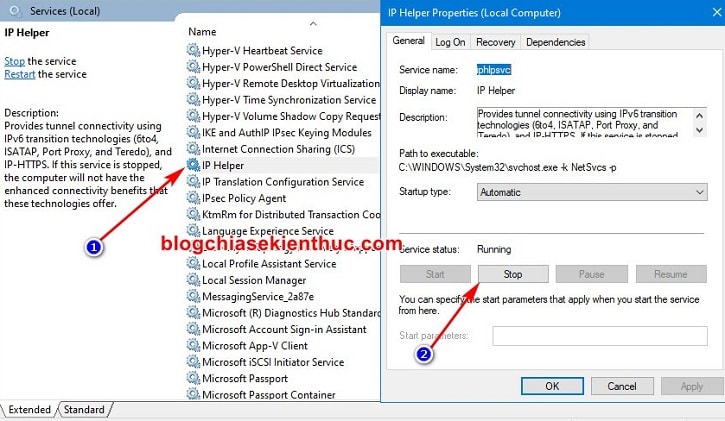 + Step 3: Default, Startup Type of IP Helper is Automatic, whichever you have Stop but then the next time the service is automatically running again.
=> So to Stop absolutely this service => please click on the number down menu at the line Startup Type => and then select Disabled=> and finally press OK to complete the setup. From now on, IP Helper will never run on your Windows again.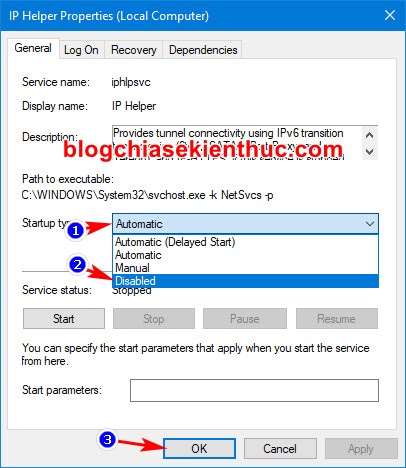 Automatic: When in this mode, the service will automatically run when we start the machine. However, the service can still be turned off if necessary.
Automatic (Delayed Start): Similar to the above mode, but this mode will start after a period of time the machine boots.
Manual: Manual mode, which allows Windows to start the service when needed (but in reality, there are very few services that start automatically if set to Manual).
Disabled: Disable the service.
Started: A service is starting… and vice versa: Not Started.
Note: If the turn off is complete there are any errors such as unable to connect to the Internet, please go back to the Services Management Console to turn it back on!
Method # 2. Instructions to turn off IP Helper with the command in CMD
If you do not like the way in the above way, you are afraid to turn off the wrong service and cause a system error, OK, with just one command below, you can turn off the IP Helper service.
Perform:
+ Step 1: First, please open CMD with Administrator rights first.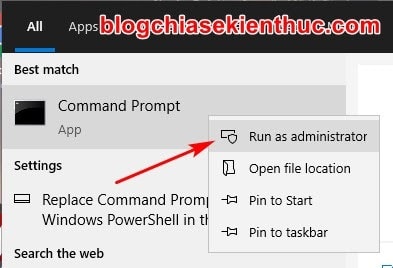 + Step 2: At the command prompt window as below, copy and paste the below command into the CMD => window and finally press Enter to execute. (right click to execute paste command)!
REG add "HKLM SYSTEM CurrentControlSet services iphlpsvc" / v Start / t REG_DWORD / d 4 / f
If the result returned is the line The operation completed successfully it means that the IP Helper service is disabled, it will not automatically run at the next Windows 10 startup.

If the opposite, check if you have missing copies, or enter the wrong command or not, or check if the Command Prompt is being opened in Administrator mode yet!
Note: And to re-enable this IP Helper service, use the following command:
REG add "HKLM SYSTEM CurrentControlSet services iphlpsvc" / v Start / t REG_DWORD / d 2 / f
II. Some services (services) rarely used on Windows 10 you can turn off
Note: Read carefully the information about the service you are about to turn off, although it does not cause a system error but when you need to use a feature related to the service that you have turned off, you will not use it. OK.
Therefore, make sure you know what you are doing, then when you want to use it again, you can solve the problem quickly. OK, got it
Frint Spooler: If your computer does not use a printer, this service should be turned off. But instead of selecting Disable, you can choose the mode Manual => okay Stop for quick use when needed.
Superfetch: This is a service that supports system memory management, it is designed to reduce the time it takes to load applications in memory. But it is only really good for high configuration computers, but for mid-range computers it will basically affect the overall performance of some applications => so you also Consider turning it off.
Telephony: Previously this service was quite useful, it was used for making calls on the Internet through the LAN. However, at the moment, there are too many 3rd party applications that support calling and messaging like Zalo, Facebook, Skype .. they are more convenient, more useful, such as => Therefore You should turn this off.
Application Management: If you do not use remote control software or you do not want others to be able to control your computer remotely with software such as Teamview, Ultraview ... then you can turn off this service.
Windows Image Acquisition (WIA): This service allows you to retrieve images from scanners and webcams, so if you do not use these devices, you can turn it off as well.
Computer Browser: Keep track of other systems connected to your computer via a network share, this one you consider yourself.
Fast User Switching Compatibility: This service allows users to quickly change on Windows, this application is not necessary if you use a personal laptop and do not need to use multiple users.
Help and Support: The help service from the system, in general I find this service quite useless, and not really effective for users in Vietnam because it is mostly in English only.
Messenger: In the days when Windows XP was still prevalent, it was this service that caused the computer to be hacked, the Spammers sent millions of Spam to the user's computer with the purpose of attack => of course now. It's safe, but if you don't use it, you can turn it off.
Net.Tcp Port SSharing Services: If you do not share your computer with anyone, or you do not want to share any files on your computer, you may Disable this service goes.
Remote Registry Service: This service allows remote users to edit Registry Editor on your computer. You should turn off this service better.
Uninterruptible Power Supply: If you do not use UPS (UPS) for computers, you can turn off this service.
Fax: On Windows 10, Fax is a third-party service that interferes with the system, if you do not use the Fax machine, you can turn it off as well.
PC Input Service Tab: Only really useful when you use hybrid computers (2 in 1) such as Surface Pro, Dell XPS ... this service will support you to use the function of the pen and ink for tablets. So if you do not use these hybrid computers, you can turn it off for a little light offline 😀
System Restore: This service is so familiar to many people, it supports recovery of the operating system when an error occurs. However, the truth is that many people do not use it, and if you are also among them, consider turning it off.
Note: There are many other services, but I find these are services that can be turned off for the majority of individual users.
Oh forget, those who are using office computers should not turn off anything, because it is related to many things in the LAN. Off the wrong one is very difficult guy IT 🙂
III. Epilogue
Above is his tutorial about how to turn off the IP Helper service and turn off servies that are not commonly used in Windows 10, to help optimize your Windows operating system.
If you find this article good, do not forget to leave a review and share this article on social networks like Facebook, Twitter, help me. Good luck !
CTV: Nguyen Thanh Tung - Blogchiasekienthuc.com
Note: Was this article helpful to you? Do not forget to rate the article, like and share it with your friends and relatives!