You have made a payment transaction via Paypal to buy products, order online, but you did not receive products or services you need to buy or receive but not like that? You want to claim money back from the seller but they don't pay, forcing you to ask Refund Paypal. That is, thanks to PayPal intervention to ask the seller to refund.
Last time I ordered the source of CashbackEngine and then ordered their own addon code for $ 620 and they set it up in 4 - 6 days.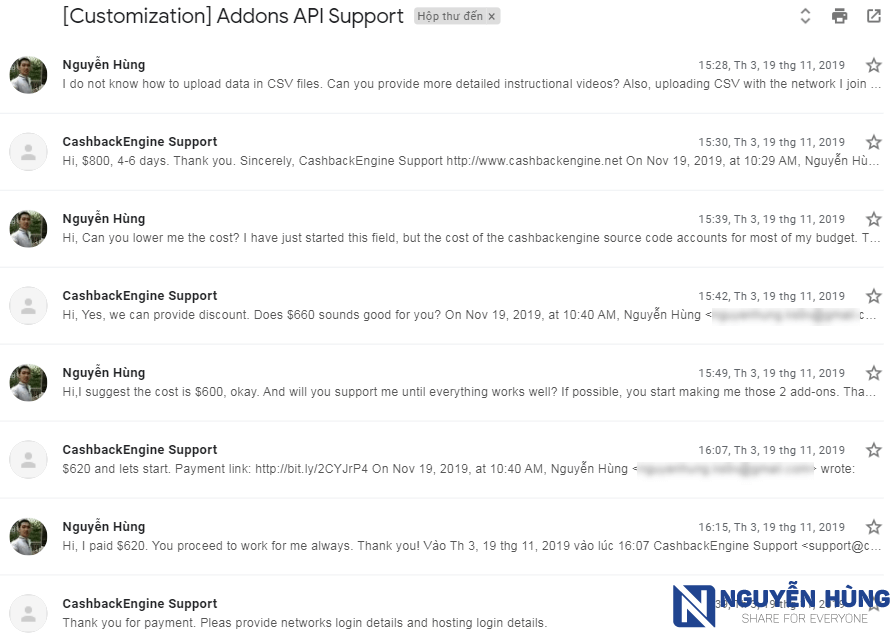 When it was due, they asked for a few more days to complete it because they were busy at the end of the year and couldn't finish it. I agreed, but after 15 days of not seeing them respond to emails, they did not respond. I have smell of scam already and try to email 2-3 more times before they will respond that they are finished, when they finish uploading and telling me to send hosting information.
I provide full hosting info for them and hope they will complete it for me. But alas, 1 month has passed and I haven't seen them update yet. I had to try to wait for the Lunar New Year holidays to finish, so I'll email.
During Tet, I continued to ask emails, they still said that I was working on the addon. However, at this time I do not trust anymore. I said I couldn't wait and asked them to refund me.
Right now, they don't answer my email anymore and I know they won't pay for themselves. I went to Google to find a way to request a refund PayPal. But most of the instructions are not detailed and follow the old interface so I have to fumble with instructions on PayPal.
So the way to ask refund PayPal what is my While you see above all see yourself "storytelling" not.
It's not accidental that I told such a long story. I told you to understand your problem and the email above is the proof that PayPal intervened to claim that money.
Ok, got it Let's see how I request a refund in the form below.
see more: Instructions for registering and using PayPal fully
Instructions for requesting PayPal Refund to claim a refund
Step 1: Log in to your PayPal account later find the transaction you want to recover, Open to see more and click Report a problem as shown below.
Step 2: The Resolution Center page opens, select the type of problem to report, such as:
I didn't receive an item I purchased
I received an item that wasn't as described
I want to report unauthorized activity
I have a billing issue
My problem is not getting the product I bought so I choose "I didn't receive an item I purchased". For you, choose the one that best suits you.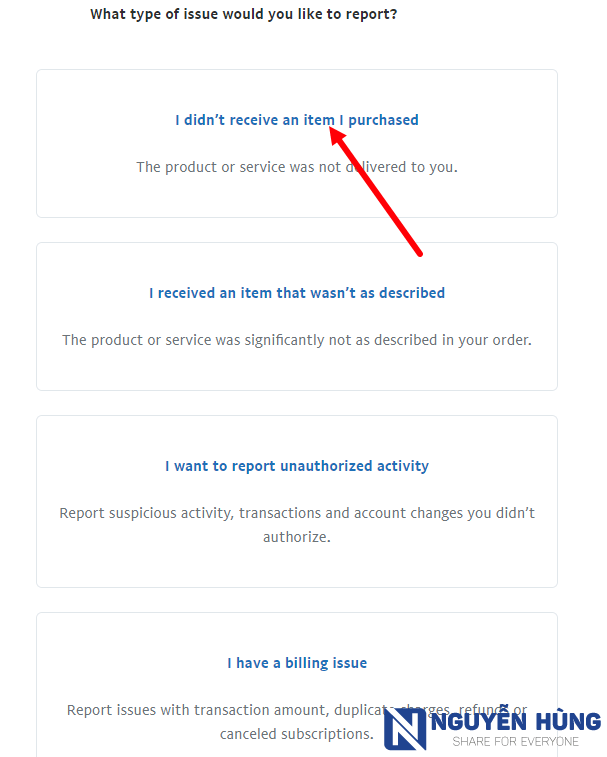 Step 3: You will be redirected to a page that details the problem and provides evidence that the information you have given is correct.
First, you need to prepare the following information:
Agreement to work with seller such as transaction amount, deadline, receipt, ...
Contact information for resolving disputes between you and the seller, but not reaching agreement, will need to be solved by PayPal.
If the information exchanged between you and this seller is in text, you can scan it into a soft file or as I exchange via email, I will print the content on Gmail into a PDF file.
After you have enough information you fill out the form on PayPal as follows.
Inside:
Were there multiple items in the order? - If you buy multiple items, you choose Yes but I only have 1 item so I choose No.
What did you purchase? - What kind of product you buy is what you choose. According to my understanding, it should choose Product will be easier to solve.
Upload the prepared files as much and as much detail as possible.
Add more details about the issue: Briefly and clearly describe the problem you are having and ask PayPal to help you solve it.
Then press Submit to send.
The content of this dispute will be sent to the seller by PayPal and you will also receive an email notification with the following content.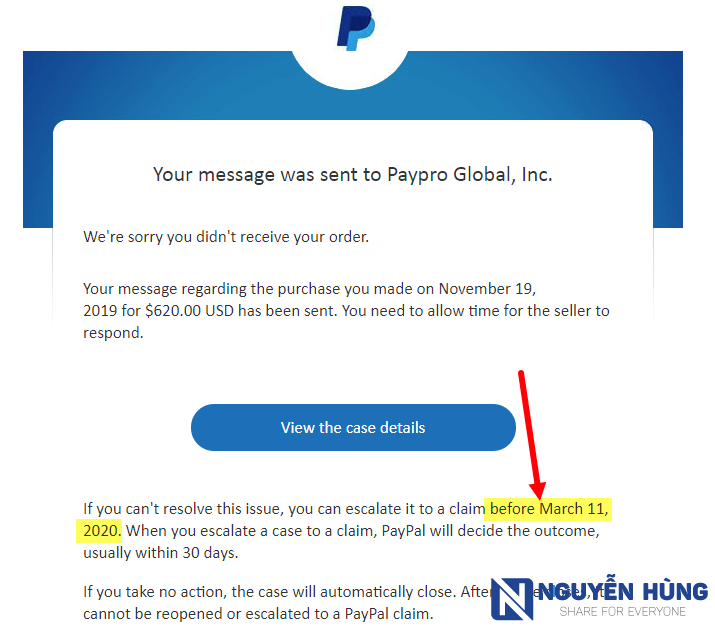 In the email you need Pay attention to the time you yellow on. If you If you do not receive a response from the seller, you must contact PayPal immediately before that time. If after that time, PayPal will not solve.
Step 4: You wait for the seller to respond to you and there will be 2 cases.
TH1: The seller agrees to refund you => everything is considered as done. You get your money back and the problem ends here.
TH2: The seller does not return you money and has roundabout feedback or does not respond to you. Now you need to follow the instructions below.
Before the deadline at the email ends about 3-4 days you will receive an email from PayPal reminds you about the dispute as follows:
You click on View the case details or access to the link this to reflect with PayPal.
At the page that opens, you respond to PayPal that the seller refuses to pay, does not contact you or otherwise depends on how the seller responds to you.
In my case, the seller said they were waiting for their resolution but most of the time they waited for them to not respond so I reflected with PayPal like this.
PayPal emailed me again and told them to contact the seller again. And will solve everything after 10 days.
I continued to wait patiently for another 10 days, and on March 17 I received email notification from PayPal like this.
At this moment I have believed that "the resistance was successful". When I opened my PayPal account to check, it was true that the money was returned to my account.
As shown in the picture above, you also see, because the PayPal balance when I paid was $ 361, so the remaining 6 million I have to pay from Visa. So when the refund was also $ 361 to the PayPal account and more than 6 million were returned to the bank account.
However, PayPal account, the money immediately and the bank account, it takes about 5 days to return money.
Epilogue
Above is the whole process yourself reclaim money when paying via PayPal without receiving the product. At first I thought it might have been lost, but because the amount of money was over 10 million, there were few, so I had to try to find a way to get it back.
If you are also in payment status without receiving the product and want Get money back from PayPal you can refer to the way you have requested refund PayPal above.
If you find this article helpful, please like and share maybe someone will need it. What is the difficulty in reclaiming money from PayPal please leave a comment below to help me.