Bitcoin price movements over the past 24 hours have been quite positive, soaring to new heights in 2020 above the $ 9,700 threshold, sometimes reaching $ 9,850.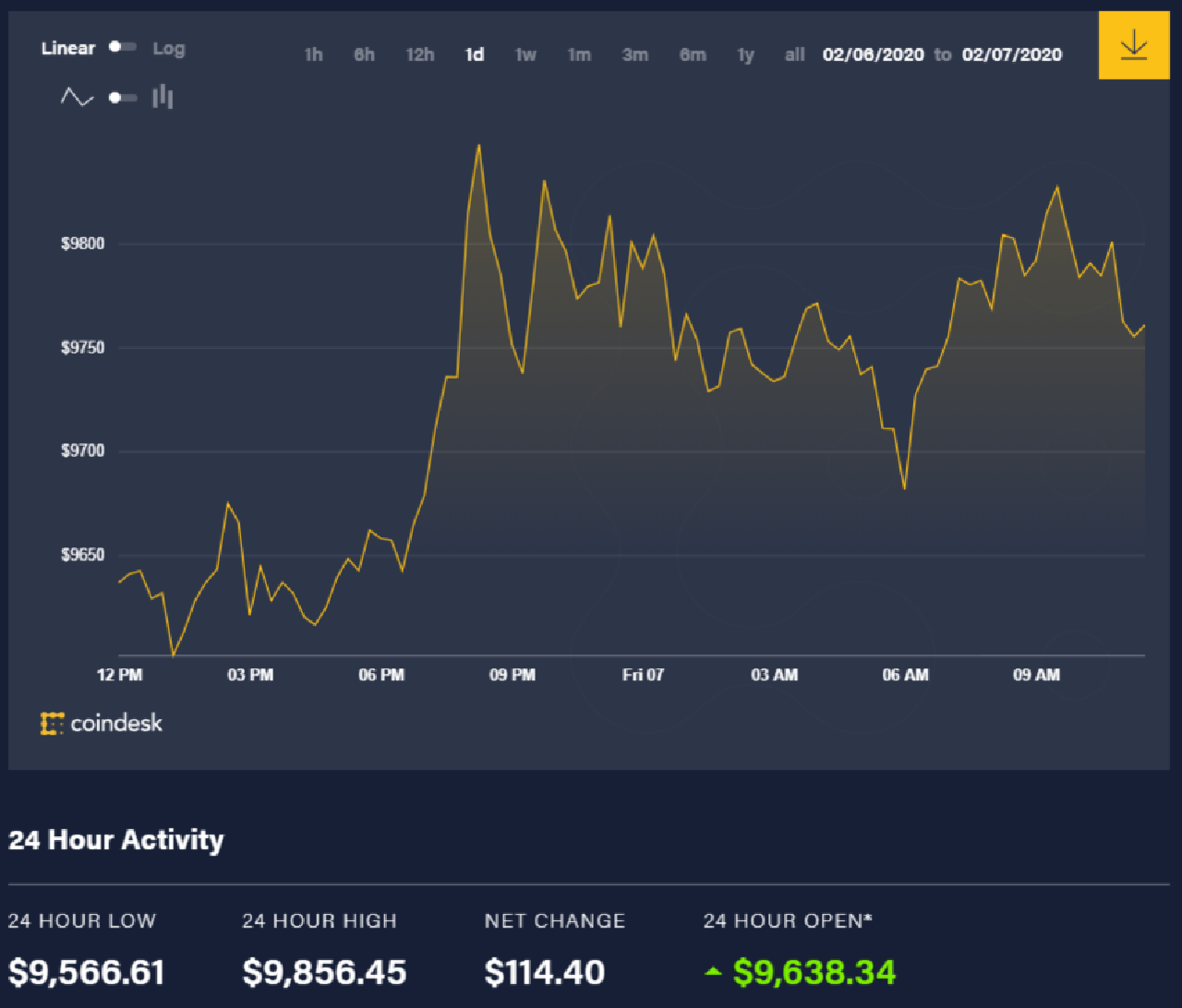 Bitcoin exchange rate Today (7/2) recorded at 11h50 at 9,757 USD, an increase of 1.17% compared to the previous 24 hours.
The price of bitcoin in the past 24 hours has ranged from $ 9,566 to $ 9,856. Bitcoin's market capitalization is recorded at $ 177 billion, accounting for 64.1% of the total market value.
On the altcoin market today recorded a recovery in several major currencies, besides there are also many plummeted.
In the past 24 hours, 72/100 cryptocurrencies have gone up, in contrast to 28 down.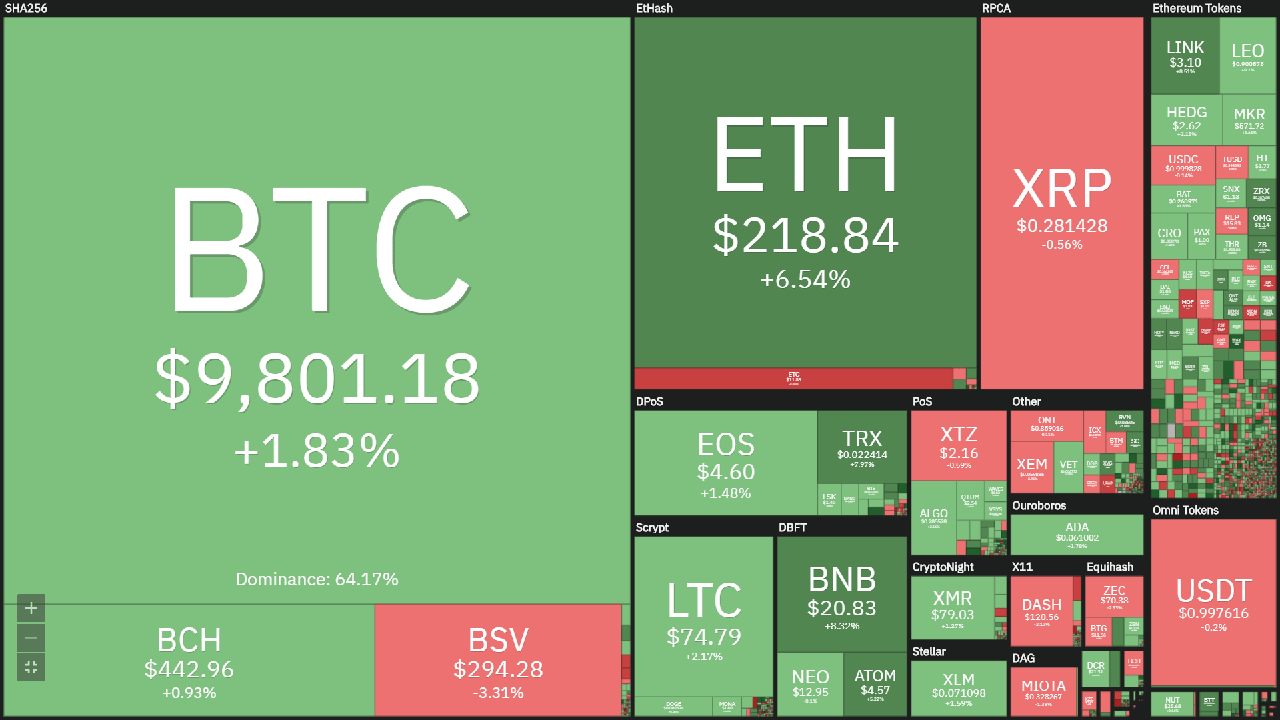 Among the top 10, most of them increased in price over the past 24 hours, in which the most prominent momentum was Ethereum with 6.5% and Binance Coin of 8.3%.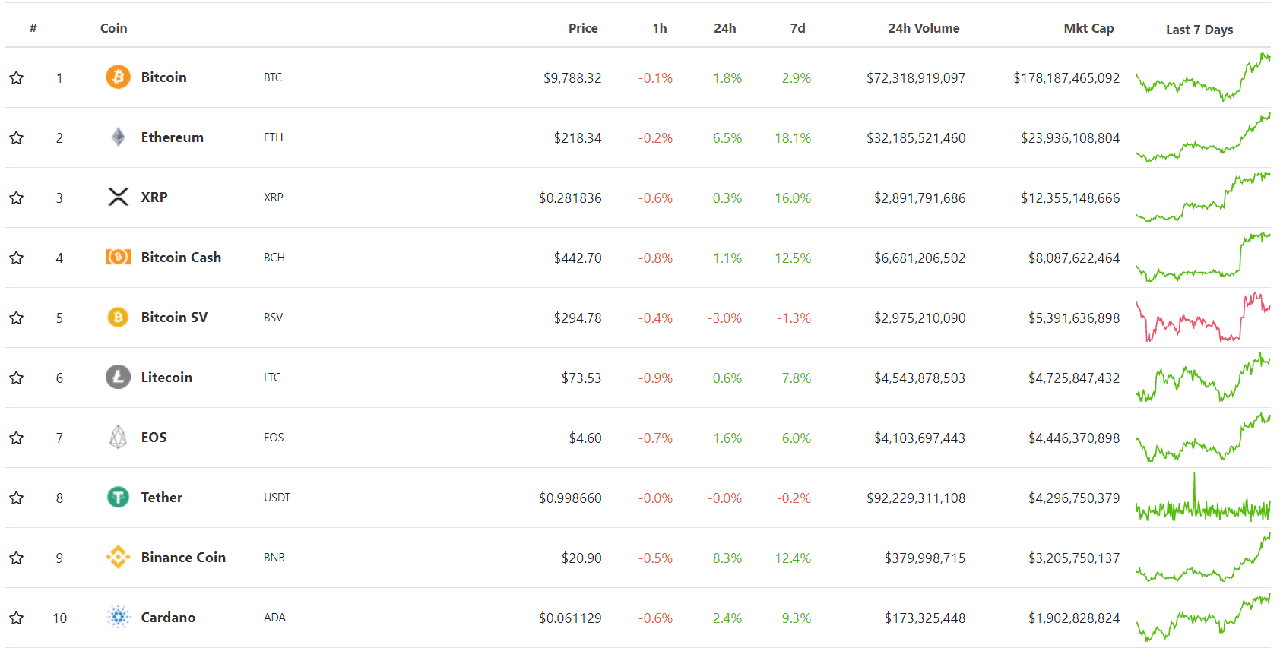 Total market capitalization of cryptocurrencies today increased to 277.37 billion USD. Compared to the previous 24 hours, the total market value increased by 6 billion USD.

The trading volume of the whole market in the past 24 hours reached US $ 140.68 billion, up to US $ 5 billion compared to February 6.
The Ethereum 2.0 test network is tested by Nimbus on mobile
Members of the Ethereum Nimbus infrastructure team are testing the Ethereum 2.0 network on smartphones at Phase 0.
"The #ethnimbus team is currently meeting in Brussels, running the first test of the Ethereum 2 network on mobile," according to Nimbus network engineer Mamy Ratsimbazafy, posted on Twitter on February 4.
Founded in 2018 by Status Network, Nimbus is building the Ethereum 2.0 subnet, and opening a Nimbus - Nimbus test network in March 2019.
On January 28, Nimbus received $ 650,000 from the Ethereum Foundation to continue the work of Ethereum 2.0, bringing the total committed capital from the organization to $ 1.65 million.
Bitcoin hits the 500 million-millionth transaction mark
The bitcoin network has just passed the 500 million-millionth transaction mark since the beginning of 11 years ago.
According to blockchain statistics site Statoshi, there are more than half a billion transactions on the bitcoin blockchain at the present time.
The technical director of cryptocurrency company Casa, Jameson Lopp, co-founder and CTO of Statoshi, posted a celebration line on Twitter:
"On February 6, at block 00000000000000000001145bf2e7cb7f04df55feaf3b55d9f6511522bbbf333f with the position of 616064, bitcoin surpassed the 500 million confirmed transaction mark on the blockchain."
Bakkt will acquire the Bridge2 Solutions loyalty program
Intercontinental Exchange is expected to acquire customer loyalty program provider Bridge2 Solutions, the company announced on February 5.
After the negotiation is over, the company will be acquired by Bakkt at the end of this quarter. Bakkt will use the money raised from Series B for this deal.