Note: Please read the article carefully before proceeding! If in the process of using you encounter any errors, such as broken download links, slow loading blog, or not being able to access a certain page on the blog ... then please inform me here. Thanks!
As you know, the Google Chrome web browser has lots of features, lots of tools, as well as hidden settings. The developer has hidden it from the regular interface so that the interface becomes clearer and brighter.
Hide it, but does not mean that you can not access, guys, we can open these hidden settings easily by using addresses like chrome://xxx… which I usually do in the tutorials already on the blog.
Stealth settings on Chrome there are many so we can't remember them all, so in this article I will share with you a utility that allows you to access all these hidden tools!
Read more:
Quick access to all hidden tools and settings on Google Chrome
We usually only know a few common tools such as opening experimental features page chrome://flags, open the add-ons management page chrome://extensions never mind.
However, for those who like to explore, streaking like me is not enough 😀
So I found a pretty nice utility called HiddenTools for Google Chrome, this is a free extension on the Chrome Web Store that gives you quick access to all hidden tools, settings and features on Google Chrome.
Perform: Click to download the utility here ! => then press the button Thêm vào Chrome to install the utility.

Once installed, click the link icon for the extension on the Google Chrome toolbar to see a list of hidden tools, features and settings that the extension can help you access. That list includes:
Apps: Includes all applications that you have installed on Chrome (chrome://apps).
Bookmark Manager: Bookmark manager on Google Chrome (chrome://bookmark).
Devices: Devices that are connected as printers on your network (chrome://devices).
Developer Tools: Stealth settings for developers (chrome://inspect).
Dinosaur Game: Hidden obstacle dinosaur game is hidden in your Chrome browser (chrome://dino).
Downloads: Recently downloaded items (chrome://downloads).
Extensions: Your installed Chrome extension management page (chrome://extensions).
Experiments: Access experimental features on Chrome, not yet officially released (chrome://flags).
History: Your browsing history (chrome://history).
About Chrome: The version number of Chrome. Here you can also update, report incidents, and many other information, ... (chrome://version).
Settings: Browser settings page (chrome://settings).
Chrome Web Store: App store, interface, extension on Chrome (https://chrom.google.com.vn/webstore)
Print: Print the current page with the Chrome print dialog.
Source Code: See the source code of the current page using view-source: in the website URL.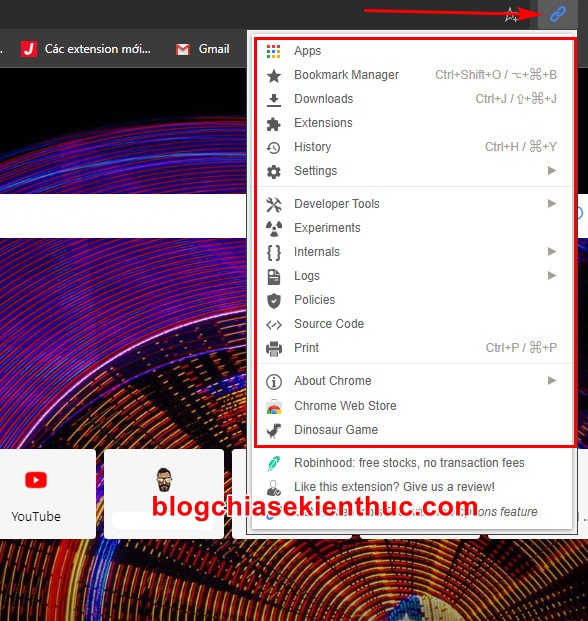 In addition to the tools that the utility has provided, you can also see all the hidden tools and other features by accessing the address:
chrome://chrome-urls/
Or chrome://about
I use Microsoft Edge Chromium browser so the address it will be Edge instead of Chrome guys Coc Coc is the same.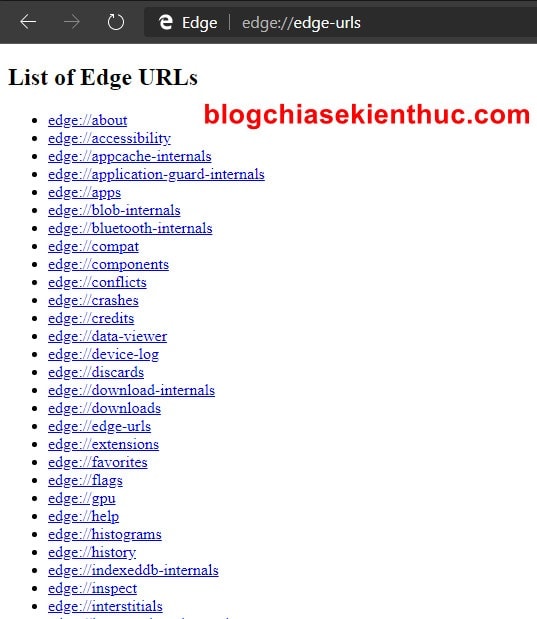 Epilogue
Yes ! So you can Access to hidden tools available on Google Chrome in a very simple and fast way with the HiddenTools for Google Chrome extension.
Above are two small tips to help you be able to use Chrome more effectively in the process of working. However, do not play around too much, causing unnecessary errors, and take the effort to reset the browser 🙂
Hope it will be useful for you, do not forget to rate the article if found interesting. Good luck !
CTV: Nguyen Thanh Tung - Blogchiasekienthuc.com
Note: Was this article helpful to you? Do not forget to rate the article, like and share it with your friends and relatives!