Note: Please read the article carefully before proceeding! If in the process of using you encounter any errors, such as broken download links, slow loading blog, or unable to access a certain page on the blog ... then please inform me. here. Thanks!
In Auto Chess Mobile game, the speed of each hero greatly determines the damage ability of that hero, and especially for those heroes who do not own their own skills.
Therefore, in today's article I will share with you the top 5 heroes with the fastest attack speed in Auto Chess Mobile game.
This article I will choose the hero at all prices, not the division to improve accuracy and help you easily compare.
Read more:
Now, let me find out about these heroes right away.
I. General introduction about these 5 heroes
In Auto Chess Mobile the maximum attack speed of a hero can be achieved including the effectiveness of the attached equipment is 0.1s. There will be heroes here who can reach or near this level.
The chosen heroes will be based on criteria such as basic attack speed, the ability to increase attack speed from equipment and the effect from the skills or intrinsic of the races and the accompanying system.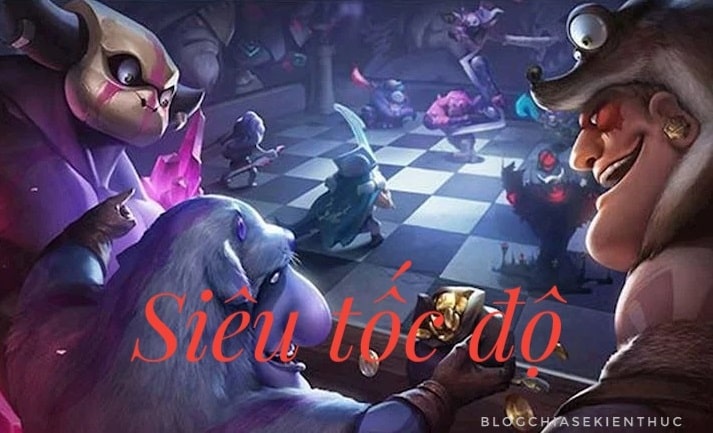 5 heroes with the fastest attack speed Auto Chess Mobile are:
Helicopter ($ 5)
Berserker ($ 4)
Fallen wicher ($ 3)
Dragon knight ($ 4)
Egersis ranger (1 $)
The heroes I have chosen above are just my personal views, of course I am based on the actual bases I have experienced.
So, if you have other ideas, please comment to let us discuss this issue!
II. Details of heroes with the fastest attack speed in Auto Chess
1. Egersis Ranger ($ 1)
Life force: 450/900/1800
Armor: 5
Damage: 45/90/180
Attack speed and range: 1.3s / 4 cells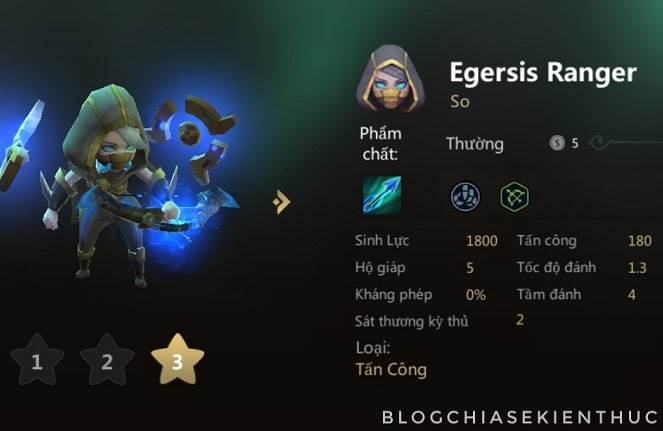 Egersis Ranger is a hero of the Egersis and Hunter family. $ 1 hero is extremely easy to meet and you can easily own in the game.
It is worth mentioning that this hero has no skills but only the internal strength that enhances basic attacks.
Passive allows Egersis Ranger to increase 25/35/45% attack speed and physical damage, resulting in a significant increase in damage.
Having long range and sustained damage, the position of the backline is extremely suitable for Egersis Ranger.
Egersis belongs to the family should help this hero has the ability to reduce the water armor when activated, combined with the intrinsic Hunter system to increase the accuracy.
With the outstanding features on the equipment Mặt nạ cuồng nộ Will help the hero's power be raised to a new level.
#2. Fallen Wicher ($ 3)
Life force: 700/1400/2800
Armor: 5
Damage: 60/120/240
Attack speed and range: 1.4s / 1 cell
Magic Resist: 30%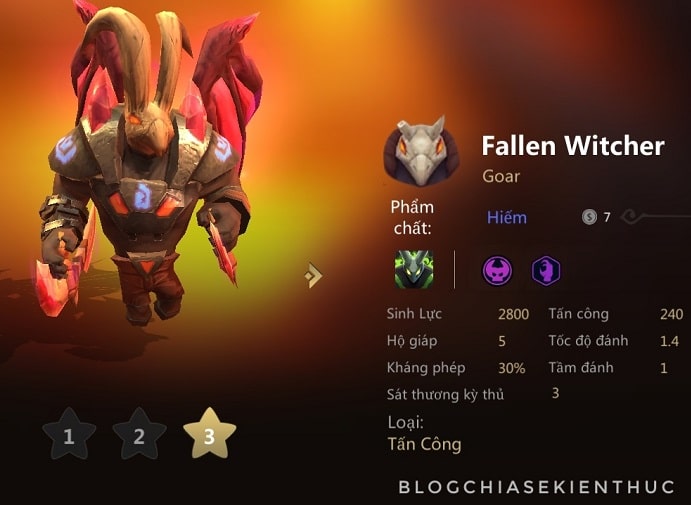 Fallen wicher belongs to the Demon race and the Wicher generation. Fallen wicher plays a very important position as one of the two Wicher heroes.
Although the basic attack speed is not too high, but when activating the skill Ma hoá then Fallen's attack power is greatly increased.
Skills Ghosts helps to exchange energy with an ally hero, and the range is improved, increasing 150/175/200 damage and 50/75/100% attack speed for 30 seconds.
Being a Demon, Fallen Wicher receives a net amount of net damage as well as the damage this hero deals.
Possessing the ability to deal huge damage after activating the skill, Fallen Wicher is the main hero to carry the team very well. Items that increase attack speed and damage will be extremely suitable for this hero.
3. Dragon Knight ($ 4)
Life force: 800/1600/3200
Armor: 10
Damage: 55/110/220
Attack speed and range: 1,2s / 1ô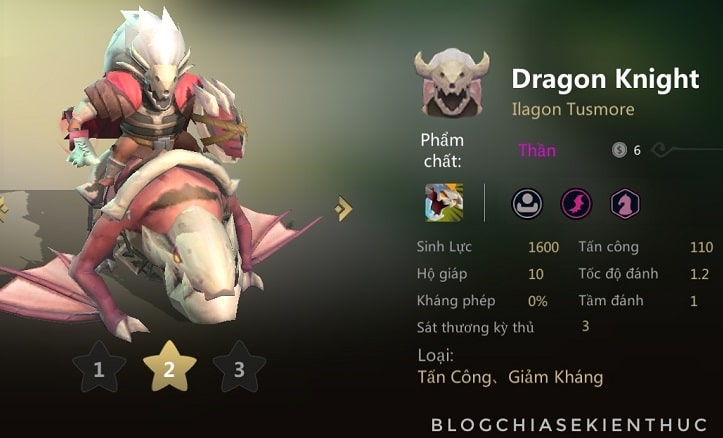 Dragon Knights belong to the Dragon and Human, belongs to the Knight family. Like Fallen Wicher, Dragon Knight also possesses skills that enhance himself and damage.
Specifically, skills Cộng hưởng will increase the range to 2 more cells, the hero itself is increased 100/150/200 damage, and will cause the opponent hero to receive continuous skill damage.
Belonging to both the Human and Dragon clans, the Dragon Knight can combine with many different squads.
As a hero with both resilience and ability to deal continuous damage, Dragon Knight can take on many roles in the squad.
The equipment hit spread, speed will help Dragon Knight increase its influence on the opponent squad.
# 4. Berserker ($ 4)
Life force: 900/1800/3600
Armor: 5
Damage: 100/200/400
Attack speed and range: 1.1s / 3 cells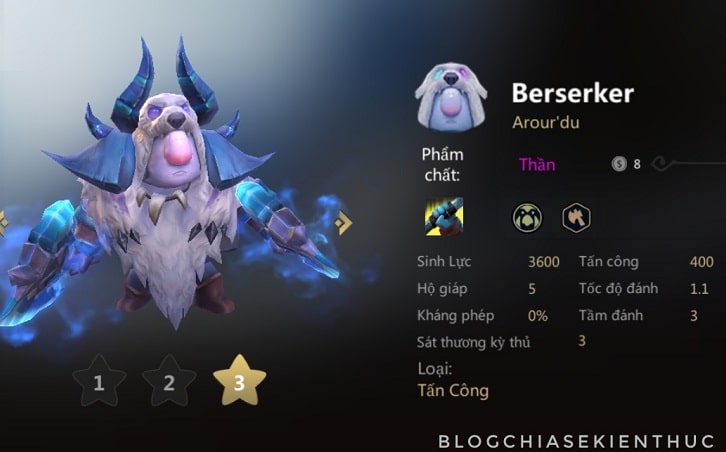 Berserker belongs to the Glacier and the Warriors. Berserker is the hero with the highest attack speed when excluding equipment.
Although not possessing skills, but with the passive increasing 15/20/25% of attack speed stacks in 6/9/12 floors, making Berserker a monster of attack speed.
Belonging to Glacier - Berserker, Berserker is a typical example of a gladiator carrying the team and the soul of the Glacier.
As a single target hero, the amount of damage caused by Berserker is extremely terrible. With the blood-sucking equipment attached to the attack speed, Berserker can become invincible in all fights.
# 5. Helicopter ($ 5)
Life force: 900/1800/3600
Armor: 10
Damage: 77/155/310
Attack speed and range: 0.9 s / 4 cells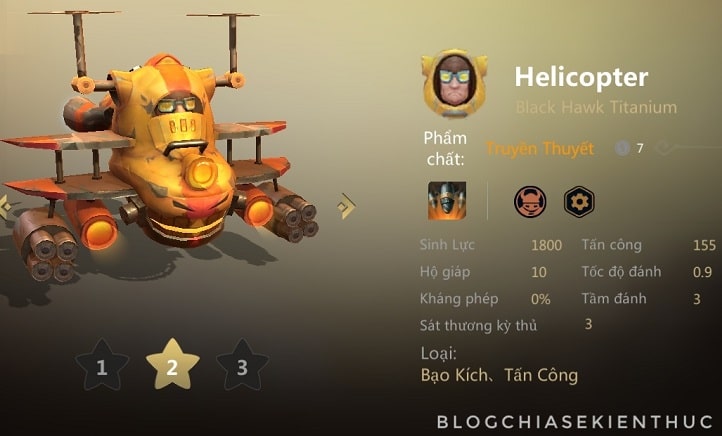 Helicopter belongs to the Dwarf family and the Mech system. Being in the Dwarf family gives Helicopter a very long range.
Especially Helicopter is the hero with the highest basic attack speed in Auto Chess Mobile game. With skill Đả kích không trung dealing enormous damage in an extremely wide range.
As a $ 5 hero, Helicopter has a very low drop rate. Despite having a high base stat, the hero's unique skills are often used to increase cooldowns and skill damage.
However, the increase in attack speed also helps Helicopter recover energy better than other heroes.
III. Epilogue
Above is the general article about the Top 5 fastest fighting speed heroes in Auto chess mobile today that I know.
Hope you will enjoy this article and always support me and blogchiasekienthuc.com.
If you have any questions or comments, please comment below!
CTV: Tran Quang Phu - Blogchiasekienthuc.com
Note: Was this article helpful to you? Do not forget to rate the article, like and share it with your friends and relatives!