The term SEO / SEM is all the words and phrases that you need to grasp during learning and working in this field.
SEM / SEM itself is also terminology, if you follow the content I have presented on this Website, you will see a lot of terms I have explained and practical guidance attached. But what I forgot is that I did not summarize all the terms you may encounter in an article to help you initially learn more neatly.
And this is the content of the article I want to present to you for people to generalize better.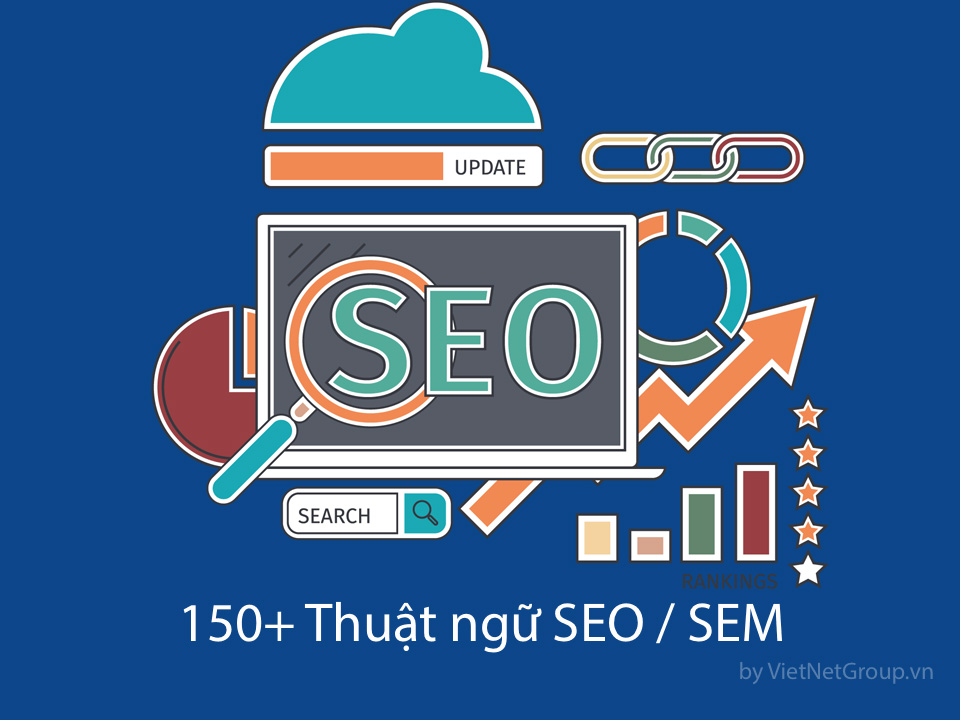 Search engine optimization is like other industries and techniques, with its own set of terms, definitions, and abbreviations.
The glossary below contains more than 150 terms that will be sent to you and I will update from time to time as more terms I know. The presentation order I will prioritize technical terms related to SEO first, because in my opinion when you are familiar with SEO, it will be much easier to expand to SEM.
SEO TERMS
1. Redirect 301
301 redirects
First let's talk about navigation in general. Redirecting occurs when you visit a particular page and soon you are automatically redirected to another page (with a different URL).
Basically, there are two types of redirects: temporary and permanent. From the perspective of the user, there is no difference between the two, but there is an angle from the perspective of the search engine. A 301 redirect is a permanent redirect. It notifies search engines that the page they are trying to visit has permanently changed its address. This means that any rankings that the site already has on the old page should be moved to a new address (this does not happen with temporary redirects).
2. Alt tag (Alt text)
It is an HTML attribute of the IMG tag. The IMG card is responsible for displaying images. The alt tag attribute is the text that is displayed in case the image may not load (for example, if the image is heavy, a slow network may cause the image to load incorrectly).
I take an example, in the image above I have used the standard:

The Alt tag has some SEO values. The thing is that Google can't (at least for the moment) see what the actual image shows, but it can read the alt tag, so the alt tag is the descriptive text that helps the image. is about what. There is no better way to tell Google what about your images than using alt tags. I am sure.
Hint: Read my article about How to optimize images for SEO
3. Anchor Text
Each link consists of two main elements. There is a web address that the link is pointing to (destination) and anchor text. Anchor text is the text content on which the link operates.
The easiest way to explain this is I give an example. Here, I would like to introduce to the SEO service as well as the workflow in the content of the article: SEO Services (Process). The destination of this link is https://www.vietnetgroup.vn/dich-vu-seo.html and Anchor text or anchor text is SEO Services (Process).
The anchor text is particularly important for SEO, it helps search engines as well as users understand what the link is about before they click to link. When you're trying to get a link back to your site, it's good to use a related keyword as anchor text.
Read more carefully what Duc Nguyen talked about Anchor text is good for SEO
4. Backlinks (return links)
Backlink is simply a link placed on another website, back to your site. Backlinks are one of the most important factors for SEO. Getting lots of return links with relevant anchor text is a good way to improve your search engine rankings.
5. SEO black hat
Like everything else, SEO has its dark side. Black hat SEO is the name of all SEO activities known to manipulate, try to bypass search engines with wrongdoings and in the long run can harm your website or even be severe penalties from search engines.
Of course, there is a pretty fine line between what you do according to search engine guidelines and what you do wrong (sometimes there's an outside agent that you don't know about). When you think of SEO, I always want you to think of it as long-term and sustainable development. Do SEO with what you are guided by search engines (Google guides for example), or based on real shared experiences from people in the same field.
6. Canonical card
It is an element in HTML links that allows webmasters to inform search engines of some duplicate content pages they have created. Tags are placed in the HEAD section of the HTML structure. Here is a standard example of this tag:
This tag indicates that the current page is a duplicate of the page http://www.example.com/.
The main idea is that when a search engine sees this tag, it does not rank that page, but moves all the rankings to the main page. So in essence, it's very similar to 301 redirects.
The websites we design are often very focused on this tag in paging content, because you know when paging is page / 2 ... it is duplicate pages, I need to inform where is the destination page. .
Detailed article about it: Canonical URL
7. Do-follow links
It is a standard HTML link in which there is no rel = "nofollow" attribute. Do-follow links are the most valuable ones from an SEO perspective.
8. Domain and Hosting
Domain (domain name) is your only address on the internet. For example, the domain name of the page you are viewing this is vietnetgroup.vn. You can choose to register this domain name at many providers. You can own a new domain name at the provider Godaddy.com for only $ 6.
Hosting, or a web server, is where your website is hosted. You need a web host to own the website. You can get hosting at reasonable prices also at many different providers. A stable, good-speed hosting at Vietnamese suppliers costs about 100,000 VND / month.
9. Duplicate content (duplicate content)
If you have two separate article pages in your website that have the same content on them (or very similar content) then you are having duplicate content. Duplicate content is said to be a bad thing for SEO. Google doesn't like sites that use the same content multiple times and they often penalize them for that.
If you think you're safe, think again. I will give you an example. If your site runs on WordPress and if you are using these categories and tags same (for example, categories self-study seo and card SEO yourself), the posts listed for your tag and category will probably be very similar. It is a prime example of duplicate content.
10. Keywords
There are many definitions of keywords. I share one of the important issues for SEO
Keywords are single words or whole phrases of specific SEO importance for a given page or site.
For example, if I write an article about choosing the best sanitary ware, my main keyword could be sanitary ware. That's the keyword I want to rank for because I want people to find this article when they type sanitary ware into Google.
Another example is the text of this article. The main keyword here I want is SEO term. I want people to find this post by searching Google for words SEO terminology or SEM terminology.
11. Keyword density (Keyword density)
Keyword density is a description of how often a particular phrase appears in a piece of text. To calculate, simply divide the number of times your keyword appears in a paragraph by the total number of words this text has, then multiply the result by 100%. The final result will be expressed as a percentage.
Keyword density is said to have an effect on SEO. The reason is that if a given phrase has a high density score, it means that the text is clear about that phrase, so it will probably get good rankings for it. Unfortunately, this fact doesn't work as well as it used to. And if you don't use text in a natural way, it could be even worse.
12. Keyword stuffing (Keyword stuffing)
Because of this keyword density factor, this situation has occurred.
Keyword stuffing is a practice of taking a word or phrase and repeating it very often in a piece of text. Typically to the point that text no longer feels natural, it's all about increasing the keyword density of the phrase you want.
Although increasing keyword density is no longer believed to work, keyword stuffing doesn't work, it works against you. Stuffing your text with keywords is definitely counterproductive.
13. LSI (Latent Semantic Indexing)
The standard definition of LSI is really incomprehensible so I won't bring it up here. Instead, I offer a more straightforward explanation.
LSI is considered an important factor for search engines when ranking your page. It tells search engines to analyze the content on your page and look for LSI keywords that support your main keyword. If they find such keywords, your site will rank for your main keywords.
LSI keywords are similar to your main keyword - keywords are often found along your main keyword in the natural language.
For example: If your main keyword is Sanitary equipment, and you are using it a lot in your article, it's great to use some LSI keywords, such as: "shower","toilet","washbasin","bathroom",… These are the keywords that will be naturally mentioned in the content of the story you are writing truthfully.
In other words, LSI is a way of checking whether text is natural or just stuffed with keywords entirely to improve rankings.
14. Link buiding Link building
This is one of the biggest SEO terms. Link building is simply a process of getting links pointing to your page. For example, if you publish an article on vietnetgroup.vn that has a link to your website, you've done a link building job.
One more thing. Link building is considered to be the most important element of every SEO strategy. If you want a good page rank, you must have backlinks to it.
Read the article talking about Building backlinks this to get my source of detailed knowledge
15. Link Farm (link farm)
Link farms are a network of interlinked websites whose sole purpose is to increase their rankings and PageRanks. I will give you an example. For example, if you create an affiliate farm (I don't recommend this, I just give you an example), You can launch 4 different websites. Each site is on a different server. You will then link page # 1 to pages # 2, # 3, # 4. Page # 2 to page # 1, # 3, # 4, etc. Basically, every page links to every other page. Such a network is very powerful when it only contains 4 pages, but when they have hundreds or thousands of them (which are not uncommon) that is a completely different story. BUT!
This is considered one SEO techniques black hat. Do not participate in it unless you want your site to be penalized.
16. Meta description (Search description)
It is a short description of a blog / page / article used mainly by search engines. This description is not displayed anywhere on the blog.
This is how Google uses it. Whenever someone types in Google looking for a specific keyword, Google makes a decision as to which web page will be displayed and in what order. For each site, Google will display a title and a short description. Google has two ways to describe this together:
If the site's Meta description contains the keyword phrase used by the user, Google will display the Meta description.
If the Meta description does not contain the keyword phrase, Google will display a piece of content of the webpage that contains it.
If you use WordPress, you can set the Meta description for each page or post by using Yoast SEO plugin.
17. Meta keywords (Description of keywords)
It lists a list of keywords and key phrases for each blog / page / post used primarily by search engines.
Nowadays, many people think that major search engines no longer pay attention to this factor while ranking websites. However, setting the appropriate keywords still has more advantages.
Therefore, including your main keyword in the keyword description list might be a good idea. For this post, I have included the term SEO and the term SEM.
Also with the Yoast SEO Plugin, we can easily add this keyword description on your website.
18. The meta tag
Meta tags include two main elements: meta description and meta keywords. Meta tags are placed in the HEAD section of the HTML structure of your page. The information contained in those tags is usually not for users but for search engines. It helps them determine what that page is about. Therefore, it is well worth manually placing them for each page or each post in your blog.
19. Natural links
All your page links get naturally without you actively building them.
For example, if you wrote a cool post on Facebook, twitter and a lot of people ended up linking to it because they enjoyed it, all those links are natural links.
20. Nofollow
Nofollow is a very common term in SEO, especially recently. In fact, it's just an optional attribute of a link. However, it has the purpose for you to add that is the purpose of making the link unimportant and you do not want to convey the introduction, vote that link to the search engine.
By default, each link is a follow link. This means that whenever a search engine encounters a link, it will follow it. Examine where it leads to, and basically take it as a vote. The nofollow attribute informs search engines that they should not pay attention to such a link - do not vote, do not consider it a natural link.
From a user perspective, the nofollow links look exactly like the follow links.
To create a nofollow link, just add an additional attribute to the HTML link:
rel="nofollow"
An example of a nofollow link:
Example
---
Today I pause here and will update the content in the near future. If you are not sure about this SEO term, please leave a comment!