Which items are still growing, and conversely, which ones are declining rapidly? Stackline has collected information and made a list of TOP 100 products / items with large fluctuations in sales (increase / decrease) during the US epidemic season.
Facebook
SEONGON transliterated to share with the community. Here is the detailed article:
Facing complicated movements of the COVID-19 pandemic, many countries have issued policies to restrict trade and social distance. In recent years, these policies have affected all aspects of economic and social life, especially e-commerce. Consumers not only shop more "online" but their shopping behavior also varies significantly.
1. Sales fluctuation after COVID-19 pandemic outbreak
Among the products with strong sales growth can be listed as:



670% growth: Disposable gloves




652% growth: Bread maker




535% growth: Cough, cold




397% growth: Types of Soups




Growth of 386%: Nuts, rice






In addition, there are also products that have decreased sales due to the influence of COVID-19



Discount 77%: Suitcase, luggage




77% off: Folder




64% off: Camera




64% off: Men's swimwear




63% off for bridal wear






SEONGON would like to send you the Report summarizing the sales of products sold at e-commerce platforms throughout the United States.
It can be divided into two lists: 100 products of rapid growth and 100 products of fast decline.
1.1. List of 100 products to increase sales
Follow Stackline.com, besides necessities such as toilet paper, canned food ..., products for home activities (entertainment, entertainment, even work) also increased sales quite quickly. Among them, can be mentioned as weight training (307%), fitness accessories (170%) and yoga equipment (154%). Because at this time, all activities of the Gym, Fitness or Yoga are required to close to limit the spread of disease, the need to improve health along with having more time for yourself. It also makes them choose products.
The concept of Work From Home is no stranger, many companies have organized for employees to work from home. This has boosted the need for computer monitors, keyboards, mice, and desks and chairs when people desire a home workspace.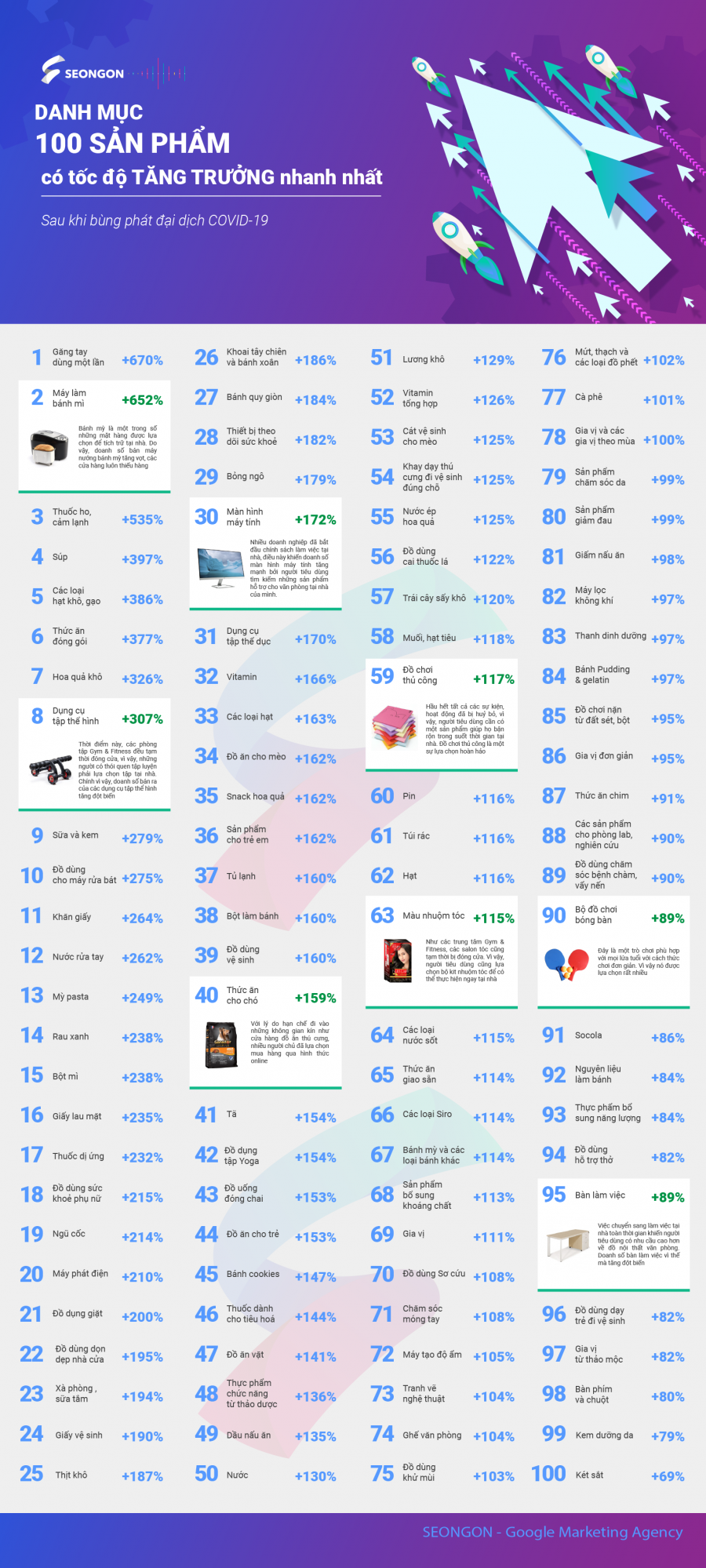 (Source Stackline.com)
The outbreak of the COVID-19 pandemic has made shopping malls and supermarkets silent throughout Asia, especially in countries such as Singapore, South Korea and China, where the spread of the virus become hard to control. So, Online shopping has gradually become an indispensable choice.
1.2. List of 100 products in fast sales decline
Except for the first few weeks when consumers stock up on toilet paper, instant noodles and rice at the supermarket, later, most choose to avoid crowded areas and delay shopping for products that don't essential, catering travel plans, personal interests.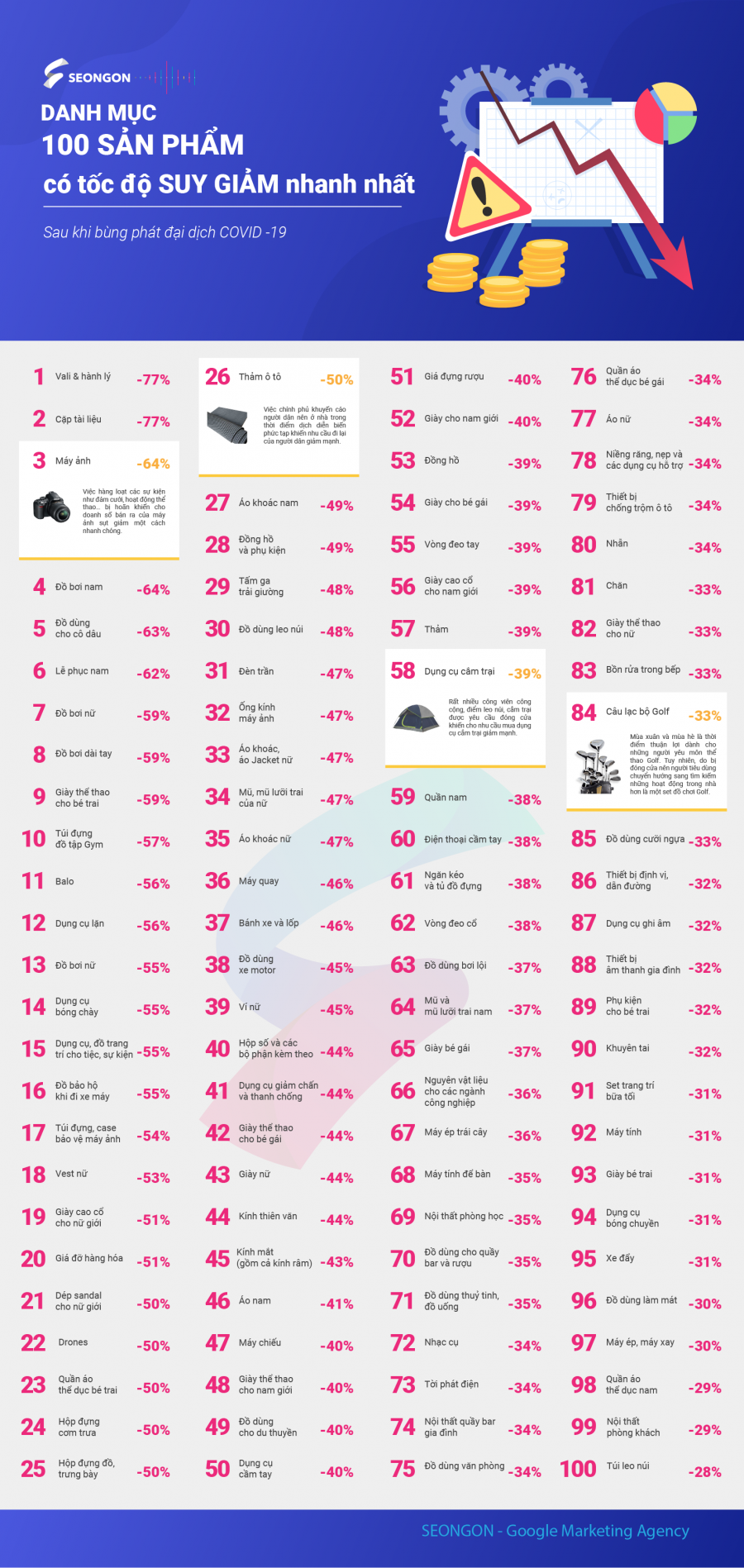 (Source Stackline.com)
Obviously, around this time, Consumer shopping behavior has completely changed. Types of necessities or items to meet the time spent at home, experience with family will be preferred over items for travel, fashion or entertainment outside.
Most outdoor activities and field trips have been postponed, causing the sales of suitcases, luggage and bags to decline significantly with 77%. Even bridal and formal wear for men reduced sales because many couples had to cancel or postpone their weddings.
Increased demand for home training combined with limited outdoor activities makes the equipment for outdoor sports also decline such as men's swimwear (-64%), diving equipment (-56%) , camping gear (-39%) ...
2. Predicting the proportion of growth of goods in the coming time
Pandemic outbreaks and prolonged making the economy completely changed. Let's SEONGON predict the development of some products in the near future.
Another source also reported that, in the coming time, the health, food take away or the media and entertainment industries will have the strongest growth since the outbreak, especially the industry. food. Meanwhile, items such as furniture, home decor, and gardening items increased but started to decrease within the next month.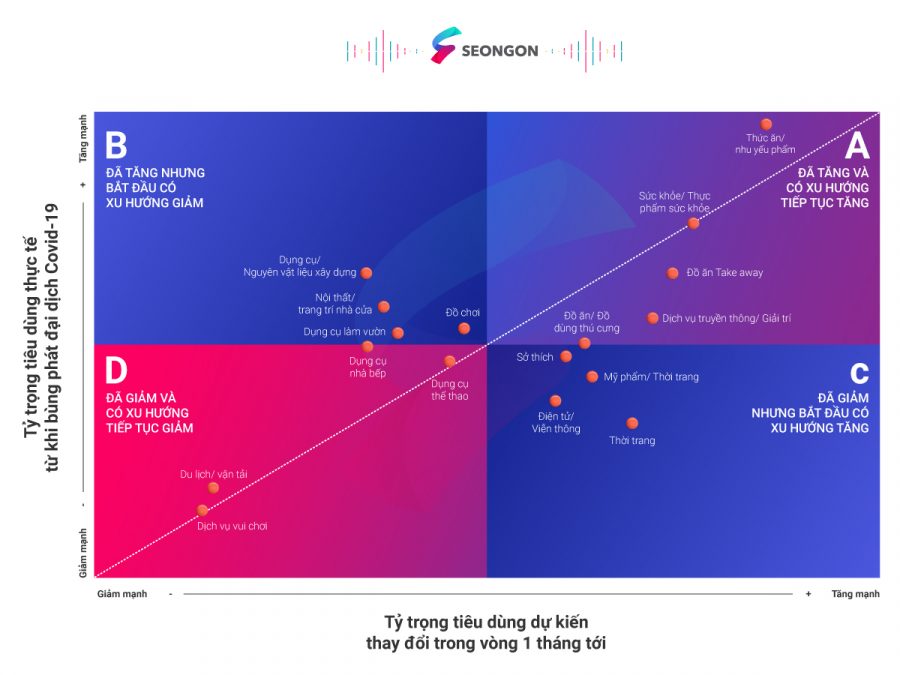 Consumption ratio is expected in the next 1 month
Some items will face the problem of continued sharp decline such as Tourism, transportation, entertainment services or sports products.
Another bright spot for Electronics / Telecommunications, Fashion, Cosmetics / Makeup or products for hobbies and pets has declined at the beginning of the epidemic but is showing signs of increasing again.
You can see more: Google search trends in the context of the COVID-19 translation and impact on business industries
3. What do Vietnamese enterprises need to do?
Not out of the trend with the world, e-commerce in Vietnam is also on the road to develop quite quickly. Mr. Nguyen Ngoc Dung - Vice President of Vietnam E-Commerce Association said: " When many people restrict going to supermarkets and shopping malls to avoid getting infected, online shopping becomes the most effective way to buy what they need.".
One of the retail brands in Vietnam - Saigon Co.op said that orders placed by phone and their website increased 10 times compared to weekdays.
E-commerce site Tiki also reported sales growth in the first two months of the year, especially with masks, wet tissues and air purifiers. "At peak time, we receive 3000-4000 orders per minute, the goods need to replenish continuously"- Tiki representative shared.
Shopee, Lazada have also added necessities, such as rice, dry food and canned food to meet the increasing demand in the context of the disease.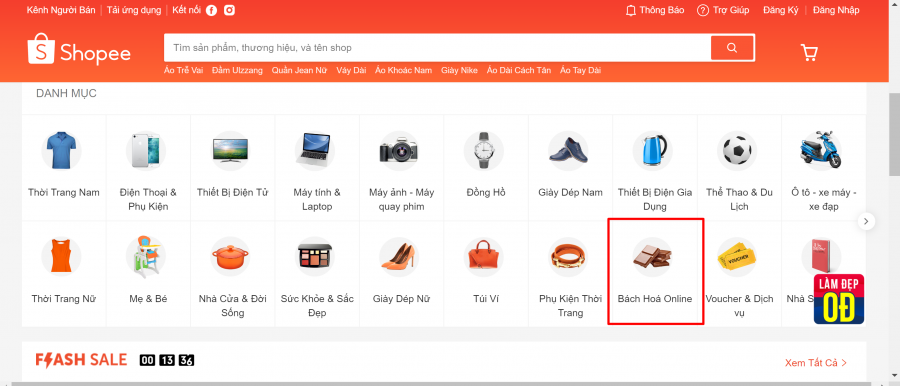 As Darwin said: "Surviving in the end is not the strongest or the brightest, but the most adaptable to change."
Besides continuing to face strong demand, businesses also need to prepare for the crisis development plan.
Get started today, adapt to new customer behavior, "If you own a building materials store, start selling your products online, if you're a restaurant owner, prepare an online ordering and ordering system ... "- Google.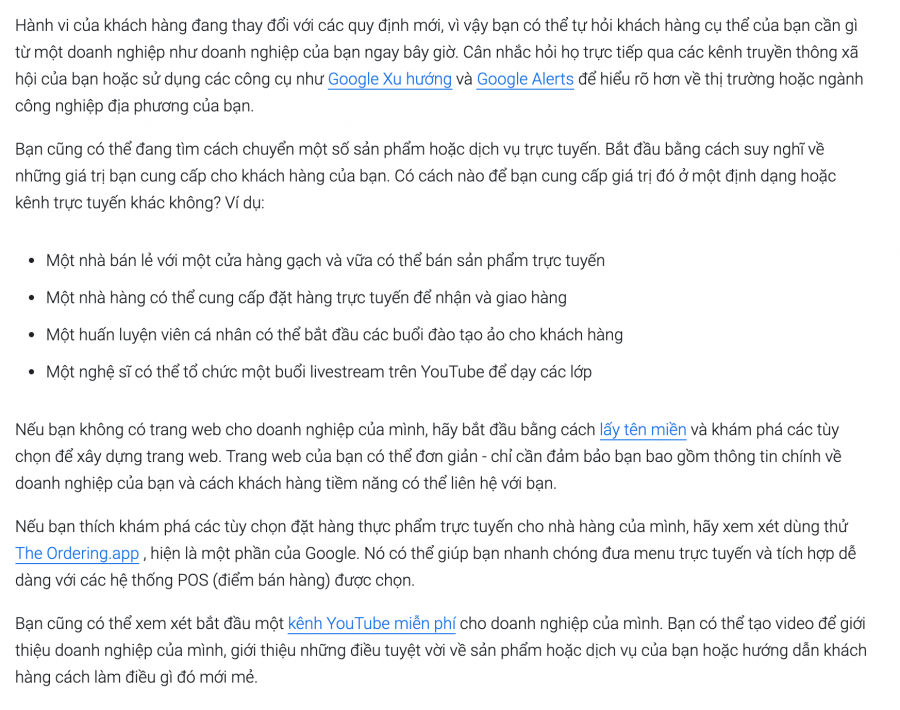 (Source: Google)
Most importantly, present wherever customers need it.
If you do not know where to start, contact us. With 8-year experience in implementing marketing campaigns on Google platform, it is not just about receiving requests and running ads - SEONGON researches, analyzes and advises, together with you to find really effective solutions. Results for business.
Hopefully, with the above information, SEONGON has brought you an overview of the field of e-commerce and development plans for your business.
And if you find this article helpful, share it now and sign up to receive email from us to continue updating more knowledge about Google Marketing!
SEONGON - Google Marketing Agency