After upgrading to iOS 14, you will probably often see a green dot in the upper right corner when opening the photography app. Or sometimes you get orange dots when using other applications, so what do these dots do?
To put it simply, these two colored dots help protect your privacy. Specifically, when a green dot is displayed, it means that the system is accessing the capture function (using the camera), when the orange dot is displayed, the system is using the microphone.
This feature is not really new to Mac users. Previously, if you used a MacBook or iMac, every time you use the webcam, there will be a dot of green LED light up to indicate that the camera is turned on.
On the iPhone and iPad there are no LEDs as on the Mac, so Apple has simulated it using the software and they are included in iOS 14 and iPadOS 14. So every time you use the photography app, you will see a green dot. show. When you use Siri or the Voice memo app, an orange dot appears.
What is the orange dot on iOS 14?
Where if a natural orange dot appears without you doing anything related to the microphone, the application you are using is accessing the microphone without your permission. Earlier in iOS 13, when an app using the microphone is running in the background, iOS displays a red notification in the upper left corner. This feature is still present on iOS 14 besides the newly added orange dot.
What is the green dot on iOS 14?
A green dot appears when an app is using the camera, like when taking a photo. Camera access is also possible simultaneously with microphone access; But note that iOS 14 and iPadOS 14 only show green dots only.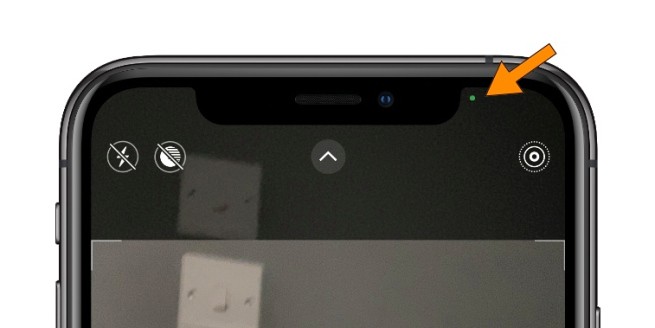 Be very careful when using an app or game where you are not using the camera function but the green dot appears. That app may be compromising your privacy.
How do I know which application accesses the camera or microphone?
Open the Control Center. If your camera or microphone has been recently used, the top of the Control Center interface will tell you specifically which apps have used. So you will know more about the application in case you do not notice the orange or green dot in the status bar.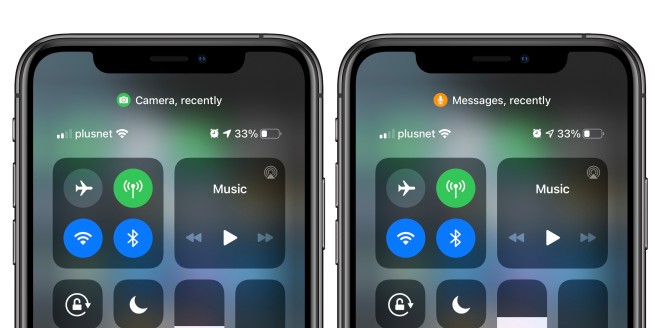 Note
iOS 14 will only record which app or game accesses the camera or microphone, but it's completely unknown what the app is doing with the information it is collecting. Hence, this green and orange dot is primarily a warning to you. And you need to take a specific action (delete app) in case these dots appear when you are not in use.
Refer: 9to5Mac